Disclosure: This shop has been compensated by CollectiveBias, Inc. on behalf of its advertiser, ZonePerfect. #MyLittleWins #CollectiveBias
It's not easy to get to the gym everyday, but I always try to walk 10,000 steps! Learn how to get 10,000 steps a day, plus download my step log printable below!
It's hard to believe we only have a few more months left in 2017! Like many of you, one of my goals for 2017 was to be more active. I had high hopes of hitting the gym hard at least 3-4 times a week, but unfortunately that was easier said than done. While I DO try to get to the gym a few days a week, sometimes just making sure I get my 10,000 steps a day is all I have time to do and I'll take that as Little Wins™!

Yup, even though I'm trying to workout 3-4 days a week, really what has helped me stay motivated and active (and not beat myself up on those days I can't get to the gym) is my step counter and my daily goal of getting at least 10,000 steps a day. Because let's be honest, many days, squeezing in creative ways to get my steps (walking around the house while on a conference call, taking the stairs, walking in place while scrolling through social media, etc.) is all I have time to do to stay active.

And whether I'm walking on the treadmill at the gym, or getting as many steps as I can as I am out running errands, like grocery shopping at Walmart, I always have a bottle of water and protein bars, like ZonePerfect® Chocolate Mint, on me at all times to give me energy. Yes, a ZonePerfect® Dark Chocolate Almond bar and some fruit (like bananas or grapes) are my go to on the go breakfast or healthy mid afternoon snack option.
Because I try really hard to get my 10,000 steps a day, sometimes I have to get creative with the ways I get my steps. It may be the end of the day and I'm only 1,000 steps away from my goal and so I'm pacing the house as I make dinner or walking in place as I watch my favorite TV show. Since I know many of you are like me and trying to get those 10,000+ steps a day, today I thought I would share some of my easy and fun ways that I get 10,000 steps a day!
I'm also sharing a free step log download (click here to download), which is helping me keep track of my daily steps. Each day, right before bed, I write down the number of steps I took for that day on the step log and if I reached or exceeded my goal, color in the shoe; and if I didn't reach my goal I leave the shoe white. Since I am such a visual person this has really helped me with my 10,000 step challenge. And like I said, every day may not be perfect, but I'll take all the Little Wins™ when and how I can get them! ?



40 Ways to Get 10,000 Steps a Day:
1. Get up every hour- When I will be sitting down working on the computer all day I set the timer for 60 minutes. When the timer goes off I get up and walk around for 3-5 minutes and then set the timer again. This might mean heading outside for a quick breath of fresh air, walking in place or stretching at my desk, or taking a quick lap around the house/office building.

2. Take the stairs.
3. Park in the furthest parking spot from the front of the store – Yes, if you are in a hurry this may seem inconvenient and is not something I would recommend late at night, but for the most part you can get in several more steps in without a huge time commitment, by parking just a few extra spots away from the front of the store.

4. Skip the drive through – It's so convenient to go through the drive through at the bank, pharmacy, coffee shop, post office, etc. but parking and walking in gives you added steps and not only that, often the drive through can be more backed up than the line inside and actually take longer!

5. Walk around your house (or walk in place) while scrolling through social media.

6. Vacuum the entire house.

7. Hit the treadmill and reward yourself by watching your favorite TV show as you walk.

8. Take a dance class.

9. Walk around and go window shopping at the mall.

10. Walk your dog at least three times a day – It is so easy just to open the back door and let my dog out in the backyard a few times a day. But to get my steps in and to make sure my pup is getting his exercise too, I try to take my dog on at least a 10-minute walk in the morning, at lunch and then in the evening.

11. Mop the floor.

12. Do a walking or dancing exercise video.
13. Walk down to get the mail – Whether your mailbox is in front of your house or at the end of the street, instead of grabbing the mail as you pull in the neighborhood after work, actually park your car at home and walk down to the mailbox.

14. Go grocery shopping.

15. And return that shopping cart to the store once you are done shopping.

16. Walk around your office (or walk in place) while on a phone call.
17. Head to the park – Whether you are taking the family or the dog (or both), head to the park to play and run around.

18. Go on an after dinner walk with the entire family.

19. Walk in place as you watch your favorite show.

20. Do laundry – Not only do get steps as you walk around the house gathering all the dirty clothes, you get steps as you haul laundry baskets from the bedroom to the laundry room, and you can get more steps if you walk in place to fold or hang up clothes.

21. Mow the lawn.

22. Rake leaves.

23. Turn up the music and have an impromptu dance party.
24. Go for a hike.

25. Walk or ride your bike (instead of driving) to the park, the library, the neighborhood pool, nearby restaurants, stores, etc.

26. Take a walking tour of your city.

27. Shovel snow.

28. Walk around the store while you wait for a prescription to be filled.

29. Walk laps in the swimming pool.

30. Run up and down the bleachers at a local sports park or school.

31. Walk the sideline while you watch a soccer, baseball, football, etc. game.
32. Take a sunset walk on the beach for your weekly date night. (Not only is it pretty, it's a free date night activity too!)

33. Save money on girl's night out and go on a walk with your friends instead.

34. Walk for at least 20 minutes on your lunch break.

35. Listen to a podcast or book on tape and walk for the entire chapter or episode.

36. Walk in place as you do dishes.

37. Pace back and forth around the kitchen as you cook dinner and clean up.

38. Speed clean your house, walking around and picking up all the clutter.

39. Take out the trash.

40. Use the elliptical machine at the gym.
How do you get your 10,000+ steps a day? Please share in the comments below!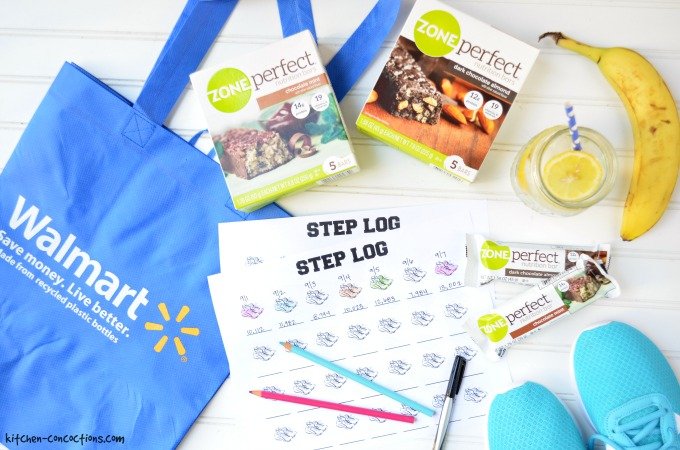 Interested in purchasing these ZonePerfect® bars to keep you fueled as you work to get your 10,000 steps a day? Hover over the photo above to click through to Walmart.com and buy them!
Celebrate all those Little Wins™ in life, like getting 10,000 steps a day, and stock up on ZonePerfect® Nutrition Bars, in the pharmacy department at Walmart! Sign up for Ibotta and earn $1.00 with the purchase of ZonePerfect® Nutrition Bars at Walmart. And for more fun ways to celebrate those Little Wins™ in life and more healthy snack options, click here.